Mary Jane Swim: Making a Statement Through Swimwear
After moving to New York from Stockton, Calif., Diane Walker studied design at the Pratt Institute in Brooklyn. A 15-year career in creating private-label designs for brands gave Walker a solid foundation for launching the swim and activewear company Sweenie Manufacturing Corp. with Stacey Demar, a membership director at the Chelsea Piers Sports Center.
Now, after meeting 11 years ago, the New York–based duo is ready to launch a brand of swimwear that is reflective of how the women view wellness. In addition to designing their own line of quality bathing suits, Walker and Demar are attempting to destigmatize how consumers view marijuana plants and promoting cannabis-based products as wellness solutions.
Once it launches in July 2018, the Mary Jane Swim capsule collection will showcase the plants through chic designs, such as a long-sleeved racerback swimsuit perfect for board sports and a traditional triangle-top bikini with cheeky bottom.
"We're just trying to help change the perception of it and make it more mainstream," Walker said. "I wanted to make it subtler and not in your face, through prints that were beautiful and they don't necessarily read as a marijuana plant."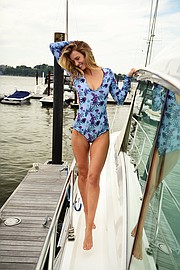 Not only are Demar and Walker creating swimwear designed to change the perception of the marijuana plant in fashion, the two athletes are also supporting Athletes for Care. The organization promotes cannabidiol wellness products as alternatives to addictive opioids.
"They [Athletes for Care] are trying to push the legalization of cannabis as an alternative to opioids for wellness and recovery in healing, especially in the major sports leagues that have an opioid epidemic—the National Hockey League, National Football League and Major League Baseball," Demar explained.
Mary Jane Swim offers a women's line that is manufactured in Colombia, where pieces are made using nylon, Lycra and Tencel. Men's swim trunks and boardshorts comprise a 100 percent poly quick-dry woven fabric and are made in Guatemala. For future collections, Walker and Demar are open to exploring the use of hemp-based fabrics for new items such as beach bags.
Wholesale pricing for the line ranges from $22 for women's tops and bottoms to $57 for one-piece styles. The men's line wholesales for $32 to $33.75. Additional information about Mary Jane Swim can be found at www.maryjane-swim.com.
SOURCE:APPEARALNEWS.NET